White rock crystal face roller. I love it!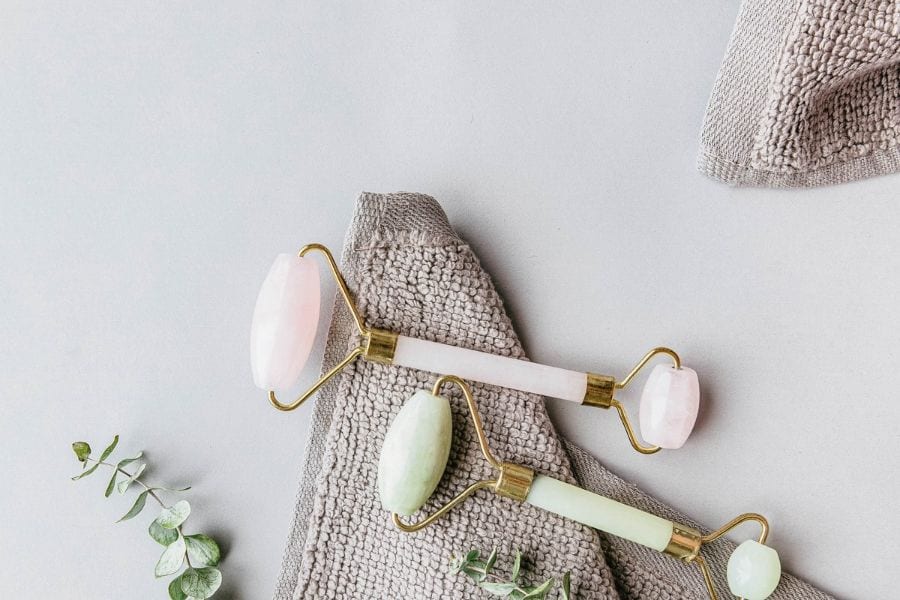 Hey!
I bet you've heard about the skin care accessories such as jade face rollers. A fun fact is that they are called this way in spite of the fact that not all of them are made of jade. I, for example, bought myself a quartz face roller because this crystalline mineral is my birthstone, a kind of my amulet. Obviously, you don't have to find a stone that corresponds to your zodiac sign because actually all face rollers work in a similar fashion, meaning that it's worth using them no matter the stone you choose. Carry on reading to find out why.
Let's get started!
Jade Face Roller: Asian way for stunning look
I noticed that jade face rollers (face massage tools in general) have become pretty popular recently. Actually, they are so commonly used that nowadays almost nobody knows these tools' true origin, that they belong to Asian skin care philosophy – and it's not only about smoothing out wrinkled skin and looking younger, but about the holistic approach to beauty and skin care. Because we're beautiful only when we feel good with ourselves: also with our inner self.
It's worth realizing that jade rollers make it possible for us to get glowing skin just like Japanese, Korean and Chinese women have, which is owed mainly to a multi-stage skin care practice used for years. As you can see, jade rollers aren't anything new but something that has been working well in Asian culture for some time now.
How do face rollers work?
The fact that we reach so eagerly for jade face rollers (note: this is a general name of the face message tools, jade is not the only stone used to produce them since you can also choose quartz, nephrite and other stones that people in Asia call "the stones of youth") means that they must be really precious and efficacious.
First and foremost, they make skin younger and full of energy, which are two crucial results that we count on to achieve. And these face rollers produce the very effects in a cool way.
The working principle of jade rollers is pretty simple. Massage done with a face roller facilitates lymphatic drainage, meaning that it reduces swellings and puffiness as well as speeds up removal of toxins from the body. The touch of a stone roller is cool and pleasant, and therefore it helps you relax and minimizes uncomfortable skin irritations. Obviously, these aren't all the benefits of jade rollers because such face massage tools are also able to boost microcirculation in skin, meaning that they give similar results to a classic massage. Therefore, it's recommended to use a jade roller before applying a face serum to help the skin absorb the product faster.
Rock crystal face roller
My personal fave among all jade rollers is the one made of rock crystal – incredibly white, pleasantly cool and really effective. It's worth analyzing its benefits separately because crystal rock face roller:
reduces puffiness and dark circles.
makes skin silky smooth, soft and resilient.
minimizes tension of face muscles.
erases fine lines, provided that it's used on a day-to-day basis.
soothes, calms down, promotes harmony and skin balance.
improves resilience, boosts energy and shine.
I've read somewhere that rock crystal is able to eliminate blockages in energy flow from chakras (energy centers in our bodies), but I didn't spend much time on this article because this is neither my field of knowledge nor is it the effect I'm looking for to achieve. But who knows, perhaps I've already unblocked some chakras without even realizing it.
How to perform face massage with a jade roller?
I saved the best for last – the directions for jade roller use. I remember myself being unsure how to use my rock crystal face roller when I was holding it in my hand for the first time. Luckily, I came across a really cool tutorial on the Internet, so now – since I found myself an experienced user of quartz face roller – let me present you the most effective way of using jade face roller (or any other face roller):
Remove makeup and cleanse your skin deeply, e.g. with a facial scrub.
Apply a cosmetic vegetable oil, serum or herbal water.
Grab a face roller, gently press it to the face and start the massage – always starting from the central face parts heading the lymph nodes.
Don't skip neck, chin and cheek bones.
Using a smaller head, massage eye skin.