Hybrid manicure step by step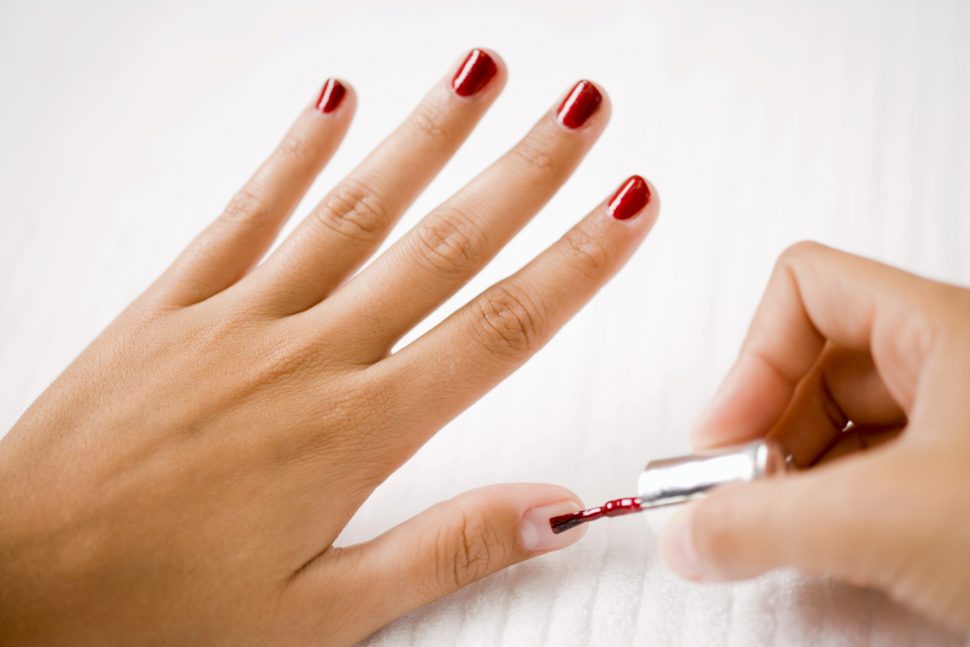 Hey gals!
Every woman wants to have well-groomed nails. Nicely cut and filed nails with a trendy colour on are a complement to your general look, it is a kind of jewellery or a subtle way to accentuate your beauty and personality. If this is what you want, I suggest you to make yourself a hybrid manicure. The good news is that you can do it at home! How? Keep reading my post.
What is hybrid manicure?
Hybrid manicure is one of the most popular and durable nail art methods. It is not difficult to make, but it requires some skills and good materials. High quality nail polishes, manicure accessories and a UV lamp with the right power are half the battle. Skills, a little patience and some time are also important. If you have all this, what are you waiting for? It's time for a hybrid manicure!
Hybrid manicure step by step
1. You need the following accessories, tools and cosmetics:
file and buffing block;
nail cleaner and primer;
base coat and hybrid nail polish of selected colour;
top coat;
UV lamp;
cuticle oil;
nail nipper and orange stick;
towel and bowl with water.
2. DIY hybrid manicure
Start by filing the nails and pushing or cutting the cuticles. Give the nail the shape you want; you can adjust it to the length and width of the fingers – such a treatment optically slenderises or widens your hands. Then use the buffing block that will matt and smooth out any ridges. Wipe the plate with the nail cleaner to get rid of dust. If your nails are greasy and covered with a thicker layer of sebum, then you should use the primer.
Now it's time to paint your nails- the most pleasant part. Apply a thin layer of the base coat and cure under UV lamp for 2 minutes. Then apply a thin layer of the hybrid nail colour of your choice and harden under the lamp. Then apply a layer of the top coat and harden it as well. The last step is to wipe each finger with the nail cleaner and massage the nail oil into your hands. The manicure should last 2-3 months. After this time, you should remove it or do it again.
How to remove hybrid manicure?
Gently file the top coat. Then soak cotton pads in acetone, place them onto your nails and wrap with aluminium foil. You should keep it this way more or less 15 minutes. Then unwrap the foil and scrape the nail polish off with the use of the orange stick. Never chip off lacquer as you may break the nail plate.
Does hybrid manicure destroy your nails?
Many women believe that hybrid manicure destroys the nail plate. This may happen if the hybrid was not applied or removed correctly or was applied to the weakened nail, and the manicurist did not apply the regenerating base. If you want to avoid such unpleasant situations, let your nails rest every few weeks. During this time, do not use any nail polish except regenerating serums and moisturising creams. If your nails are fragile and tarnished, you should strengthen them with the right products in the first place.
Hybrid manicure – helpful tips
Each layer should be thin, because in this way you will prolong the durability of the manicure. If the colour of the hybrid does not cover 100%, it is better to apply three thinner layers than two thick ones.
Don't apply the nail polish close to your cuticles. If you get them dirty, it will definitely spoil the final effect.
Don't use the nail cleaner in between each layer, as this ma weaken the hybrid manicure.
Always cover the free edge of the nail. This way, you will prevent layer splitting.
Stir the nail polish before use.
Remember to follow the rules of hygiene. Be careful as some damage in the epidermis may lead to infections.
Use good quality cosmetics and accessories. They will serve you longer, and the manicure will look better.
Have you ever made the hybrid manicure yourself? If so, what are your favourite hybrid nail polishes and colours?