New cosmetic stuff! Mineral foundation Lily Lolo Candy Cane SPF 15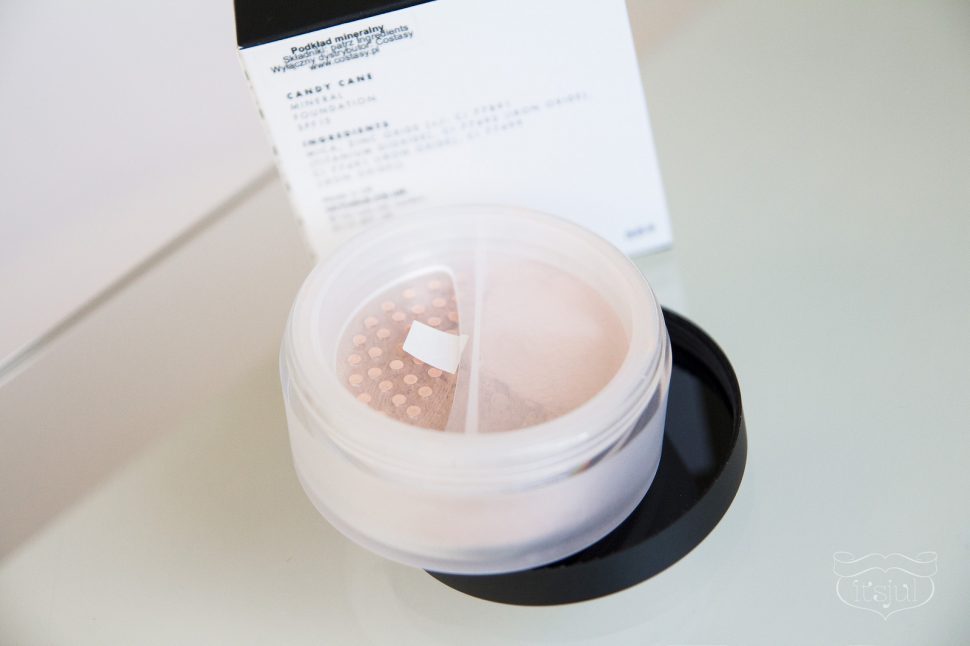 Hello Girls!
I'm fast to tell you that my make-up set has recently expanded itself with a new foundation. This time I decided to give a go to mineral and completely natural cosmetics by Lily Lolo. I bought Candy Cane shade featuring SPF 15. Owning to this cosmetic, I win three things at once: neat make-up, sun protection and healthy complexion. How does my super new foundation work?
Mineral foundation Lily Lolo – For who?
Mineral foundation can be applied by every girl, no matter of their skin type or age. The colour range of these cosmetics is truly impressive, therefore, I'm sure that each of you is going to find the perfect shade for yourself. Candy Cane, the shade which I've chosen, is the best on for the cool skin type of the pinkish tone with the visible blue capillaries. If you decide to do the shopping at Lily Lolo's, you can pick and choose among plenty of mineral cosmetics designed to shape face, define lips and eyes. These products are natural, don't contain any artificial ingredients and I find them perfect for being applied to sensitive, acne or dry skin.
How do I use Lily Lolo mineral foundation?
This cosmetic has powdery formula and is very lightweight. It doesn't clog my skin pores, leaves neither smudges nor markings on face when I apply it, and it delivers fully satisfactory camouflage. I need no more than two thin layers to hide my skin imperfections (mostly they are red spots). I use a big and soft brush to apply the foundation. I distribute the cosmetic onto the lid and collect as much of the foundation as a brush can gather. I tap off the excess and rub the rest into my face. Sometimes, when my skin requires better camouflage, I apply two coats or just follow with other Lily Lolo cosmetics.
Why do I like Lily Lolo Candy Cane for?
I give a huge plus to the product for the sun protection it offers. In spite of the fact that it's only SPF 15, my skin doesn't need more. Moreover, I like the mineral foundation for having a light consistency that delivers very natural effect. Another thing that I find appealing is the packaging with the sifter. I find this solution very useful.
Have you ever used Lily Lolo foundations? If yes, please write comments below to share your opinion about this brand's products.