Full hair regeneration in progress… NANOIL and its charcoal hair mask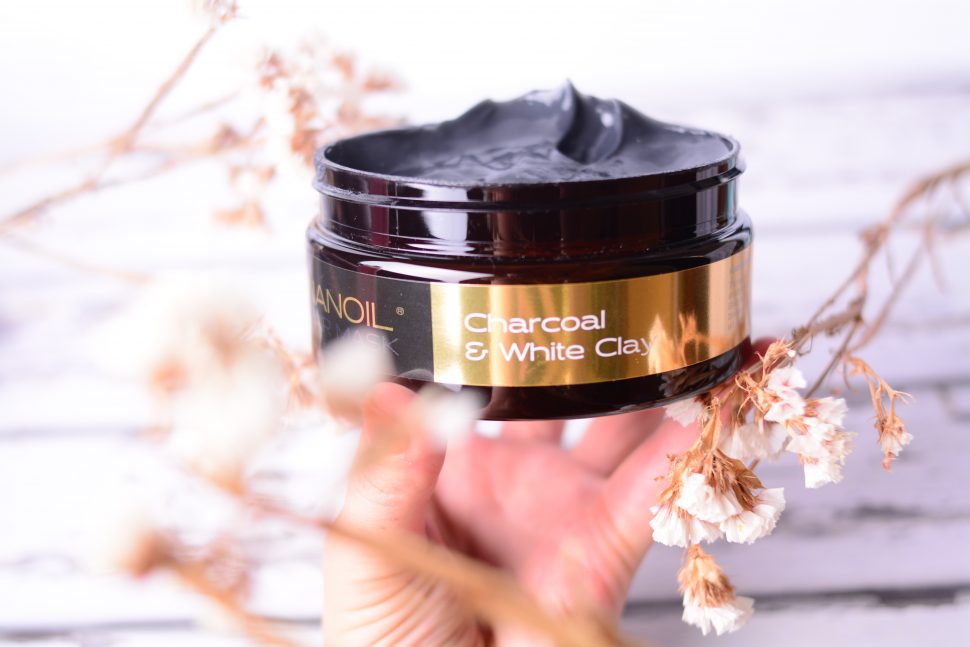 Hey!
The spring is coming, days are getting longer so we have more time to take good care of ourselves. Actually, soon we will walk around with wind in our hair, without any hats, so I think it's high time we did something with our locks. We can kill two birds with one stone and treat ourselves to some hair treatments that apart from improving our strands also always boost our mood, don't they? I bet there is no woman who wouldn't feel better after getting the nail or hair done. And today I'll give you an idea on how to improve the appearance of your hair. To achieve this goal I reached for Nanoil charcoal hair mask, which I'm going to review now for you.
Why did I choose NANOIL Charcoal & White Clay Hair Mask?
This cleansing hair mask with charcoal is one of a few hair care products offered by Nanoil. When you go on their official website (let me give you the link: nanoil.co.uk, you will see that there are 5 amazing hair masks that you can choose from. Since I felt that my hair needed some detox, I couldn't think of anything better than charcoal – I'm sure you know that this is one of the most effective substances that helps us free our bodies from toxins. But coming back to the Nanoil hair mask, the one with charcoal also contains extra nutrients, which I'll tell you more about later. Let me just add that I couldn't help myself and I had to buy also the masks with liquid silk and argan to boost the effects achieved with the charcoal mask. Okay, so let's get to the point.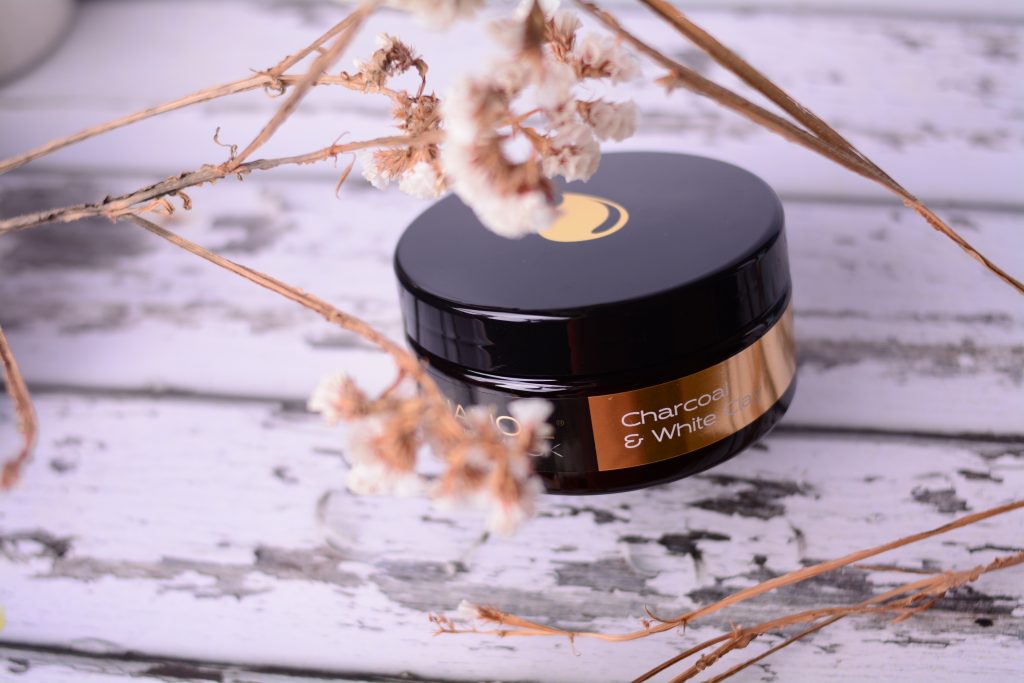 In my opinion, this charcoal hair mask is the best solution for weak hair that spent long months under a cap and exposed to hot and dry air (thank you, radiators!). As a consequence, we have problems with seborrhea, hair lacks volume and in general looks poor and lifeless. Luckily, there is nothing that cleanses scalp and hair better than charcoal! Actually, I'm sure that you've treated your body with come charcoal face masks or charcoal toothpastes so you know how powerful this substance is.
What is NANOIL Charcoal & White Clay Hair Mask formulated with?
Obviously, the hair mask has more constituents than just charcoal and the below ingredients were what convinced me to buy this Nanoil hair mask. Just look:
ACTIVATED CHARCOAL – the main active ingredient that absorbs toxins, grime and other impurities from hair. It also balances sebum.
WHITE CLAY – another active ingredient that handles two tasks: it cleanses hair and heals scalp. Apart from that, it's able to soothe scalp.
VITAMINS – the classics of vitamins, that is A+E, is the core of effective hair treatment – I always look for this duo in hair care products because they make hair stronger and improve its condition.
PANTHENOL – I think most of you know what panthenol is and what effects it produces, right? However, for those who don't know: panthenol is one of the most important constituents of high quality hair masks. It speeds up hair regeneration and encourages keratin synthesis.
ALGAE – one of my fave hair improving substances. Apart from applying it to my hair with a mask, I also take food supplements with algae. Algae are the masters of nourishment and moisturizing. Also, they protect hair against oxidative stress.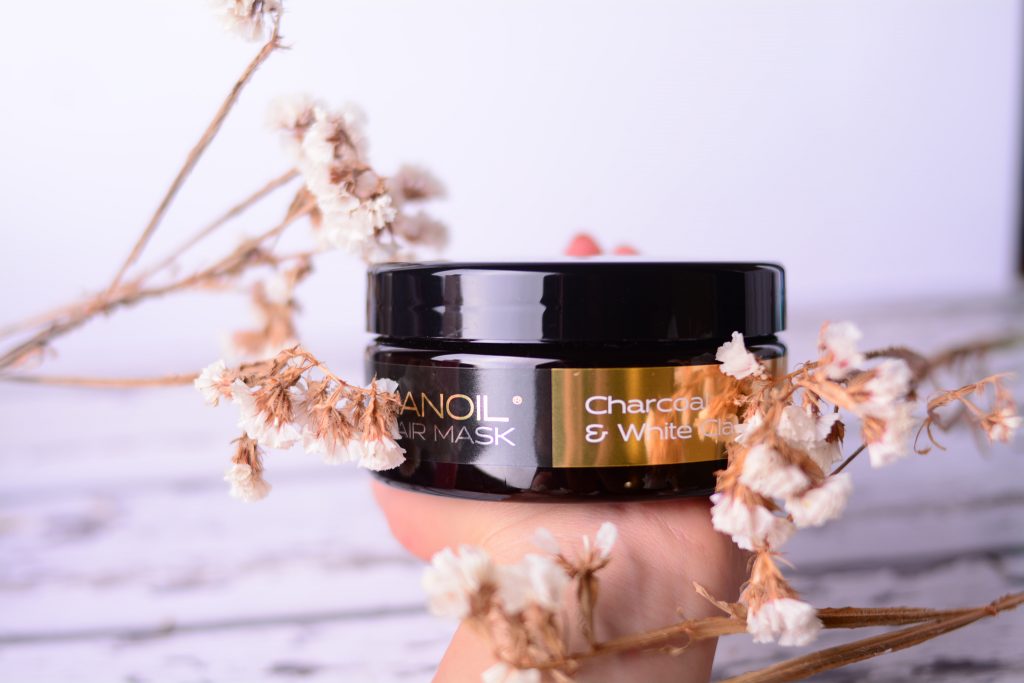 What effects can you expect to observe with NANOIL Charcoal & White Clay Hair Mask?
To be honest, I didn't expect this hair mask to give me the effect of beautiful locks so fast. One application sufficed to change my hair. It became lifted at roots, bouncy and shiny. It was also plain to see that the strands were replenished with moisture and nutrients. Finally, the hair was easy to style, and actually still is because since I've been using Nanoil Charcoal & White Clay Hair Mask, I experience zero problems with arranging good-looking hairdos. I think I can also say that now the natural color of my hair is somehow more intensive and saturated, which is really cool and excites me every time I look at myself in the mirror. I'm highly satisfied with this hair mask and I consider it to be one of the best hair masks I've ever had a chance to use. While talking about using…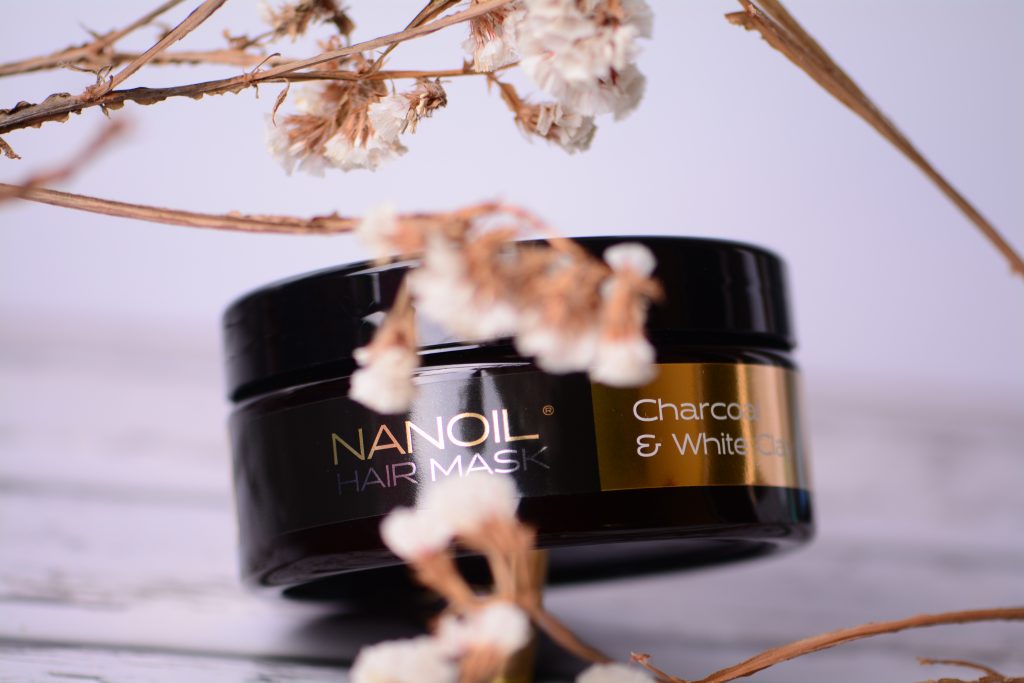 How to apply NANOIL Charcoal & White Clay Hair Mask?
Regularly, once a week, just like the producer recommends us to. This should suffice to fully regenerate hair! But I think I have to confess that at the beginning I used to apply this hair mask twice a week – more or less every 4, not 7 days. The effects blew my mind as my hair got the proper nourishment. After a month I started following the directions for use, once a week, but trust me, the first month of using Nanoil Charcoal & White Clay Hair Mask was a kind of hair regeneration and nourishment apogee, which just showed me that my decision concerning exposing my hair to intensive repair treatment was good 🙂 What I want to say is that if you think that your hair is in miserable state, you can help the hair mask work faster. The last thing that I have to add here, always apply the mask to towel dry hair and rinse after 15 minutes.
Let me know if you are already antiquated with Nanoil hair masks. Have you used them?